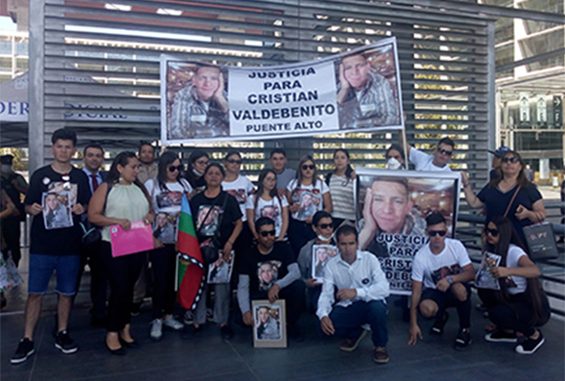 March 16, 2020
Codepu Team CODEPU, news, PUBLICATIONS
Lawsuit for the aggravated homicide of Cristian Valdebenito
A lawsuit for the aggravated homicide of Cristian Valdebenito, who died from the impact of a tear gas canister, was filed in the Seventh Court of Appeals in Santiago.
The legal action is directed against the Mayor, Felipe Guevara, the Director-General of the Police, Mario Rozas, the Police's Special Forces and all those who are criminally responsible. The lawsuit was presented by family members together with the CODEPU legal team.
The lawsuit states that we are dealing with a qualified homicide, as well as a crime of «ill-treatment against private individuals» and that of «denial of services». Cristian Valdebenito was shot by a tear gas canister and the Police did not provide the required assistance, in spite of being warned of the situation. On the contrary, everything seems to indicate that they obstructed the actions of the health rescuers present at the scene.
The lawsuit also states that the Police's decision to remove the demonstrators from the streets at any cost was accompanied by excessive and criminal violence. This resulted in one more death due to the Police's actions.
The crimes that are denounced in the lawsuit are, in turn, human rights violations that can be considered crimes against humanity. These crimes are the result of a decision to attack a civilian population. Furthermore, this attack was carried out in a widespread and systematic manner, with the aim of intentionally causing serious suffering and/or seriously threatening the physical integrity or mental or physical health of the demonstrators.
Cristian del Tránsito Valdebenito Valdebenito, who was 48 years old, suffered a head injury as a result of the impact of a tear-gas canister, which caused his death. Cristian was born in 1971, and lived his childhood in Villa O'higgins, in the commune of La Florida. He was the oldest of six children. He became a teenager during the dictatorship and in the 1990s he moved with his family to live in Villa Cerro Morado, located in the Bajos Mena area. This villa was built on a garbage dump and contains small, narrow houses that cannot withstand heavy rains.
Cristian was the father of four children and the grandfather of two granddaughters. He had moved a couple of years ago to a nearby village in the same commune of Puente Alto. He was an eternal sports fan who participated in the social and popular demonstrations that began on October 18 with the hope that the demands for justice and dignity would become a reality in our country.
That Friday, March 6, Cristian arrived alone in Plaza de la Dignidad where he had arranged to meet a cousin. Which never took place.
March 13, 2020